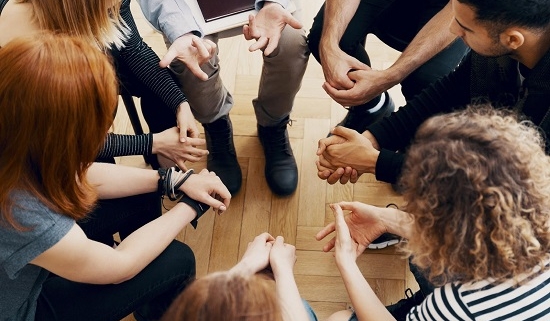 When a substance use disorder takes over a person's life there comes a point when he or she will stop and say, "enough." This moment of truth may arrive after the devastating consequences of addiction have piled up, such as the loss of a job, a relationship, a marriage, one's financial resources, and health. This is the turning point, the opportunity to change the trajectory and reform one's life.
Outpatient addiction treatment is a gift for individuals who cannot take a long leave of absence from their jobs and family obligations. The flexibility of these programs allows the individual to remain engaged at work or school while receiving treatment. Outpatient rehab offers a framework for breaking free from the grip of addiction that includes a set of therapies and activities available in various levels of intensity based on the severity of the addiction.
The appropriate level of outpatient treatment for an individual is determined following an initial evaluation with the intake team. This will involve an interview, a review of the substance use history, determining if there is a co-occurring mental health diagnosis, and determining whether the individual will need a medical detox before starting rehab.
What is a Medical Detox?
Detox is the first step in the recovery journey. Detoxification is the process by which the body expels the toxins and chemicals associated with the substance of abuse that have built up in body tissues over time. Detox and withdrawal is necessary in order for the individual to be stabilized and fully present mentally for the active treatment phase that follows.
During the days that the body is clearing the substance, the individual will experience physical and psychological discomfort. In fact, anticipating the unpleasant withdrawal symptoms can create a significant barrier to entering treatment in the first place. However, those few days in detox are the gateway to a whole new life in recovery, and well worth the temporary discomfort.
During the medical detox there will be trained professionals consistently monitoring the progress and the withdrawal symptoms. This provides the necessary oversight in the event withdrawal symptoms escalate suddenly into a medical emergency. The role of the detox team is to alleviate the withdrawal symptoms as much as possible using medications while also providing emotional support.
What Are the Different Levels of Intensity in Outpatient Rehab?
Outpatient addiction treatment programs provide various levels of support based on the needs of the individual and the level of severity. Outpatient rehab can be a step down for someone who has completed an inpatient program but who seeks continuing support in the early days of recovery. These individuals might only require one or two therapy sessions per week.
For someone in the early to moderate stages of addiction, an intensive outpatient programs can be an excellent choice. These individuals would have a treatment plan designed according to their needs.
Those with moderate to severe addictions, a dual diagnosis, or those who have been court-ordered to complete an outpatient program may require the more intensive day program. The different levels of outpatient treatment are summarized as:
Day Treatment: Day treatment, also referred to as partial hospitalization (PHP) offers the highest level of care for an outpatient program, with daily participation and about 30 hours per week or more of programming. The PHP offers detox services, psychiatric services, and medical professionals on site to provide a comprehensive recovery program.
Intensive Outpatient Program (IOP): The IOP provides a robust outpatient program that requires about 9 hours of participation each week. Program elements include psychotherapy, addiction education, medication management, and 12-step programming, with detoxification services referred out.
Outpatient Continuing Care: This is the least intensive outpatient rehab, offering evaluation, psychotherapy sessions, and addiction education for individuals with a mild or recent substance use disorder. Basic outpatient therapy is an excellent step down for those who have completed an IOP or residential program.
What to Expect in an Outpatient Addiction Treatment Program?
An outpatient program usually lasts for a minimum of three months. Basic treatment elements provided at an outpatient program include:
Individual psychotherapy. Psychotherapy is essential to recovery in order to identify underlying causes for the addiction behaviors. An outpatient program may offer various evidence-based therapies, including:
Cognitive behavioral therapy (CBT)
Dialectical behavior therapy (DBT)
Mindfulness-based cognitive therapy (MBCT)
Contingency management
Group therapy. The group therapy session, offered in a variety of forms, is the centerpiece of outpatient addiction treatment. Some of the different types of groups include:
Psychoeducational groups that teach interpersonal skills, life skills, relapse prevention planning, stress management, ongoing addiction education, and support groups.
Interpersonal process groups that involve issues of a sensitive nature, such as gender issues, criminal histories, and history of trauma.
Family groups that encourage family members to discuss and heal lingering resentments, to rebuild trust, how to avoid co-dependency and enabling behaviors, and to learn how to be supportive of their loved on in recovery.
Medication management. Some individuals may benefit from a medication-supported recovery. Medication-assisted treatment refers to certain drugs that are used for a few months or possibly longer that help the individual sustain sobriety. The medications, such as naltrexone, Suboxone, or methadone, can be helpful in stabilizing the person in early recovery by reducing the risk of relapse.
When is Inpatient Rehab a Better Option?
Not every individual is suited for an outpatient rehabilitation program. A residential, or inpatient, program better serves those with a long history of heavy drug or alcohol abuse. Residential rehab involves residing at a rehab facility for an extended period. This allows the individual with a more severe addiction to remove themselves from the environment and people that may be unsupportive to recovery. Residential rehab provides support around the clock and is highly structured with a full daily schedule of classes and therapy.
The benefits of residential programs include a better ability to focus on recovery without the distractions and temptations at home that might derail recovery. In addition, inpatient settings allow for a deeper exploration of the psychological and emotional issues that may be factors in addictive behaviors.
How is a Dual Diagnosis Treated?
Often there is a coexisting mental health disorder accompanying the substance use disorder. These combinations, called a dual diagnosis, are very common. Some examples might be an alcohol use disorder co-occurring with depression, or a benzodiazepine addiction co-occurring with anxiety. When attempting to diagnose and treat individuals with a dual diagnosis, it is often difficult to discern which disorder emerged first, the mental health disorder, such as anxiety, depression, or bipolar disorder, or the substance use disorder.
For the optimum recovery outcome, both of these disorders should be treated together during a rehab program. A dual diagnosis program requires more specialized training and a psychiatrist to be on staff. These mental health professionals will provide guidance to the addiction specialists in an ongoing manner, helping to manage unpredictable outbursts or mood swings that may occur during treatment.
How to Avoid Relapse
Relapses after recovery usually follow a predictable pattern. There is an emotional relapse phase that features anxiety and anger along with isolating behaviors and skipping meetings, and which signal the process toward relapse. This psychological pre-relapse phase is characterized by romanticizing substance use, beginning to hang out with friends who use, lying to family members, and beginning to plan the return to substance use. Finally, the physical relapse occurs, but during those first two phases of an impending relapse there is an opportunity to thwart the relapse.
Relapse prevention planning is emphasized during the outpatient rehab program, including developing a personal relapse prevention strategy. By identifying the situations, people, or things that can trigger the desire to return to substance use, a plan can be made to promptly put into action when these do present themselves.
Individuals in early recovery are taught coping skills and tools that can be accessed if relapse threatens. Lifestyle changes, such as eating a healthy diet, getting quality sleep, and engaging in regular exercise, can be protective against relapse. In addition, relaxation techniques are taught to help calm the mind and reduce the anxiety or depression associated with the early days of sobriety. Deep breathing techniques, yoga, meditation, journaling, and massage are all excellent relaxation tools to employ.
The acronym BHALT helps to preventing relapse, as it identifies the emotions that may instigate a relapse. BHALT stands for bored, hungry, angry, lonely, and tired. Coping techniques are taught in rehab to help individuals manage these emotions and prevent a relapse.
Benefits of Sober Living During and After Rehab
A sober living home provides the framework needed to maintain sobriety while going through outpatient treatment and the months following completion of the program. This transitional housing option is a helpful tool in the quest for a new, sober lifestyle, as it helps the individuals strengthen their commitment to sobriety and shore up their new recovery skills.
While going through the outpatient program it is helpful to add an additional layer of support by opting to live in a sobriety house. This is especially true is the person's home environment is not supportive to recovery efforts. The home may feature dysfunction, substance abuse, and chaos, which would all undermine efforts to remain sober while in treatment.
Following treatment sober living can prepare individuals for re-entering their regular daily lives by establishing healthy new routines. This includes being on a regular routine schedule, rising at the same time each morning and heading to bed at the same time each night. Forming these positive new habits lays a foundation for routine and normalcy, which are conducive to success in recovery.
Sober living homes emphasize a type of monitored independence encouraging residents to work or continue with school within a structured, substance-free living environment.  Sober living homes feature:
House rules and responsibilities that must be followed
Zero tolerance for use or possession of drugs or alcohol
Drug and alcohol testing
Mandatory weekly house meetings
Required attendance at 12-step meetings
An opportunity to create new sober friendships
A safe and sober living arrangement has been shown to be an inherent component of port-rehab success for maintaining sobriety.
Case Management in Recovery
When it comes time to leave the sober living environment residents may benefit from various community services that will assist them in the transition process. A case manager can help guide residents toward legal services, social services, housing services, or other assistance programs that might be of help in early recovery.
Case management involves the process by which an individual's life challenges are managed and remedied under the oversight of a recovery counselor. The case manager is responsible for working with various, often fragmented, social services for the benefit of the client. This means coordinating services so the client can access the ones needed according to his or her specific needs.
The case manager becomes an advocate of sorts, assisting the client in procuring the needed help for vocational skills, job seeking skills, medical and mental health treatment, services such as welfare or food stamps, overcoming housing challenges, more. Without case management, many who are recovering from substance use or dual diagnosis disorders could fall through the cracks and end up right back in active addiction.
Sober Living Properties Near Salt Lake City
Sober Living Properties is affiliated with Next Level Recovery, an outpatient addiction treatment center near Salt Lake City, Utah. Sober Living Properties offers clean, comfortable living quarters that are well managed and maintained. Clearly stated policies for the homes help maintain order and safety among housemates. Our house managers treat all residents with the utmost dignity and respect, and are dedicated to helping residents remain strong in their sobriety. Sober Living Properties provides an opportunity to build a new life based on a solid foundation of renewed self-respect and sobriety. For more information about our sobriety houses, please contact the team at (866) 793-1679.
https://soberlivingproperties.com/wp-content/uploads/Outpatient-Addiction-Treatment-Utah.jpg
366
550
Marissa Maldonado
https://soberlivingproperties.com/wp-content/uploads/sober-living-properties-salt-lake-city-utah-retina-300x147.jpg
Marissa Maldonado
2019-09-30 19:09:06
2019-09-30 19:09:06
Outpatient Addiction Treatment Utah